LOYALTY PROGRAM OLA OLA REWARDS
* Valid from 1st April 2023
For improving our service and customer experience, Ola Ola Restaurant, Bar & Coffee would like to inform you of our loyalty program – Ola Ola Rewards, which offers several special benefits to valued customers.
A. OLA OLA MEMBER
1. TYPE OF MEMBERS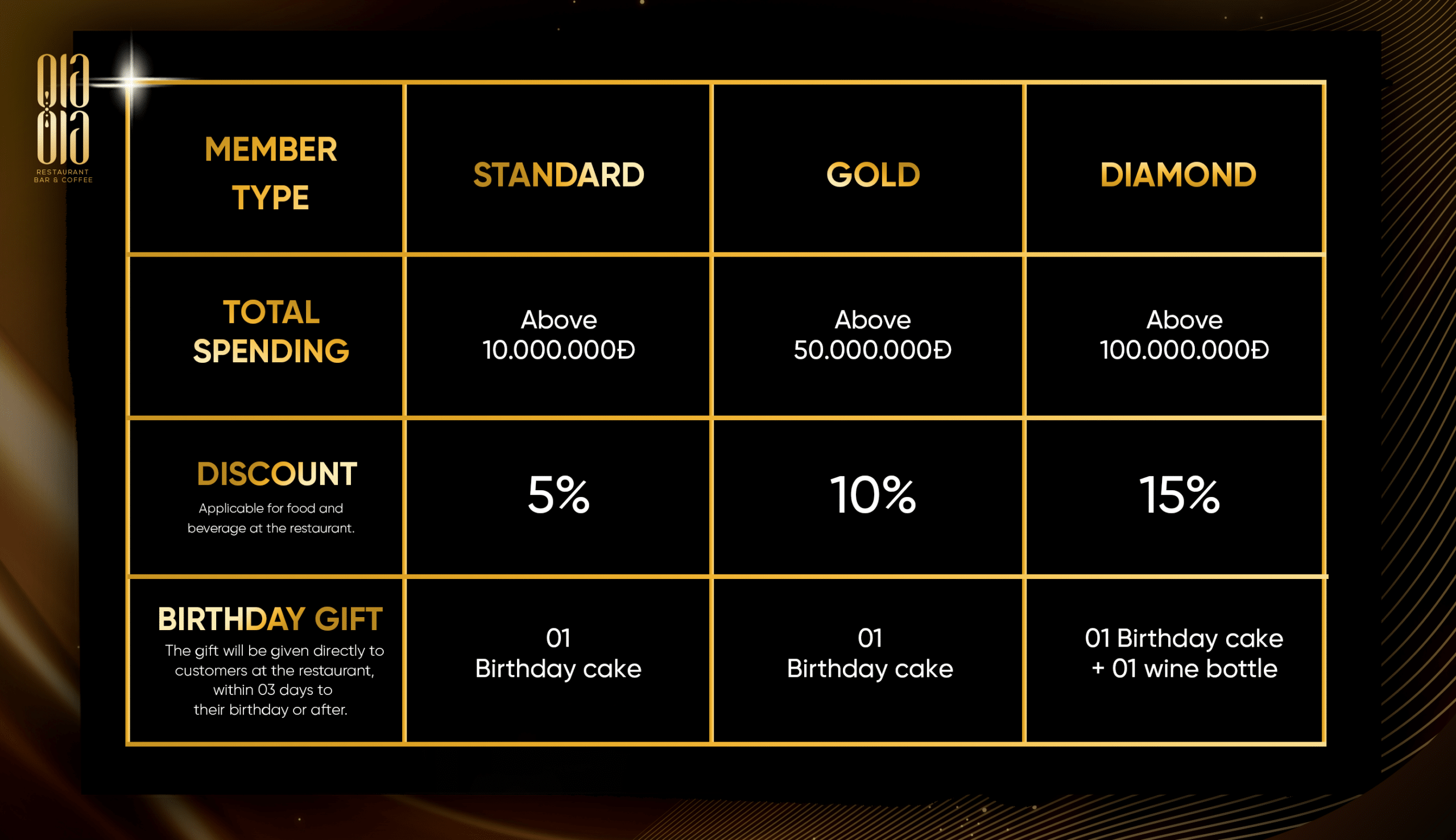 2. TERMS & CONDITIONS
– Members are qualified based on their purchasing history at the restaurant, and their validity is limited to one year. Except for Gold members and others, whose total spending will be accumulated for the following years, the standard membership type will be restarted the next year.
– Customers are required to provide their personal information at the counter. All information is kept private and maintained in our system. If customers fail to submit information per request, they might not enjoy the member benefits from the loyalty program.
– This program is not valid in conjunction with other promotions, and discounts.
– Special discount is only applicable to a single invoice (not separate invoices) and cannot be exchanged for cash or transferable to other guests.
– Special discount is not available for the banquet and/or delivery service.
– Ola Ola has the right to modify the content of this reward program and will notify customers via our official media channels.
2. FOR LA VIDA RESIDENTS
– Privilege card program (issued in 2020) will end in 31st March 2023.
– From 1st April 2023, for those customers who use La Vida App for payment, please show your App ID to receive a 10% discount on GOLD members as well as collect the reward points for this program.
Come to Ola Ola Vung Tau and enjoy your benefits today.